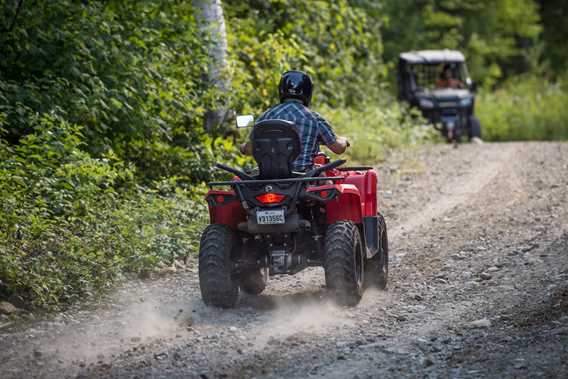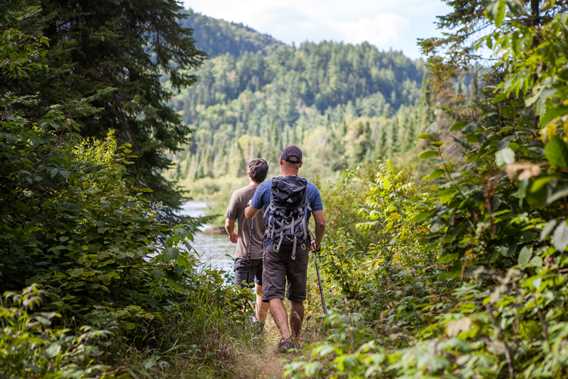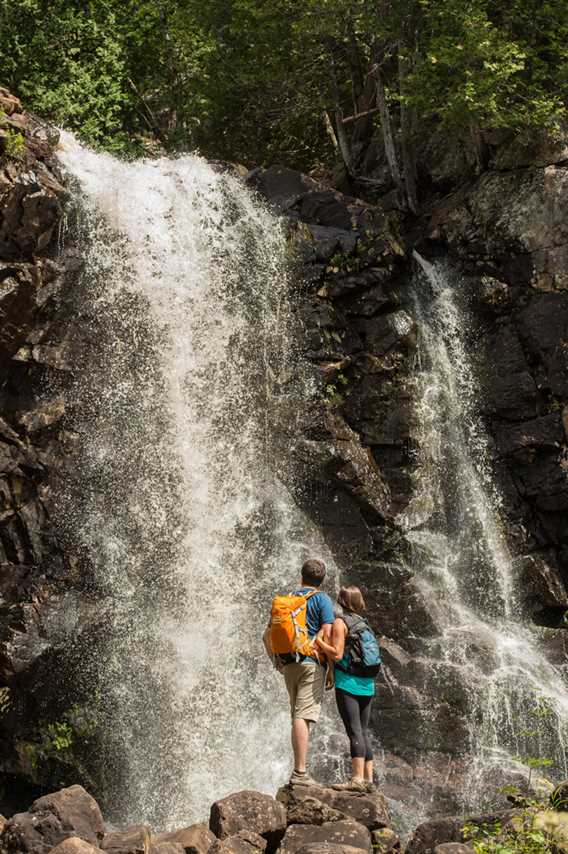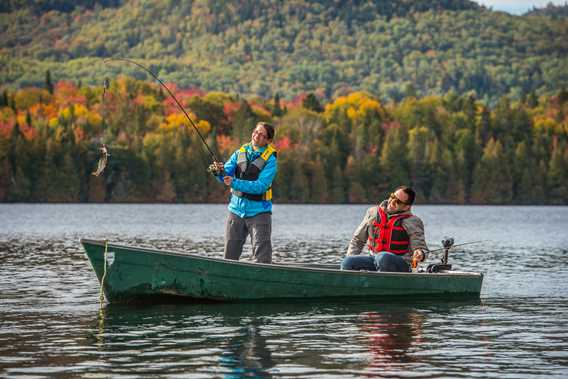 Saint-Côme
Canoeing and hiking paradise
You'll love walking along the main street that meanders through this old settlement village, where the L'Assomption River runs. The picture-perfect town of St-Côme makes an ideal home base to discover Lanaudière.
Nearby attractions include the immense territory of Mont-Tremblant National Park, two regional parks and the National Trail, which crosses the region. Welcome to hiking paradise! Have fun wandering the regional trails alongside waterfalls and cascades. If you're up for a good workout, take the Swaggin trail to the top of Montagne du Tranchant where there's a breathtaking view of Lac Clair. Feeling adventurous? Get a rush descending our white water rivers in a canoe or kayak. Top off your adventure with a picnic beside the Chute-à-Bull waterfall. Come evening, stay overnight in a cabin or one of the beautiful lodges located near the slopes.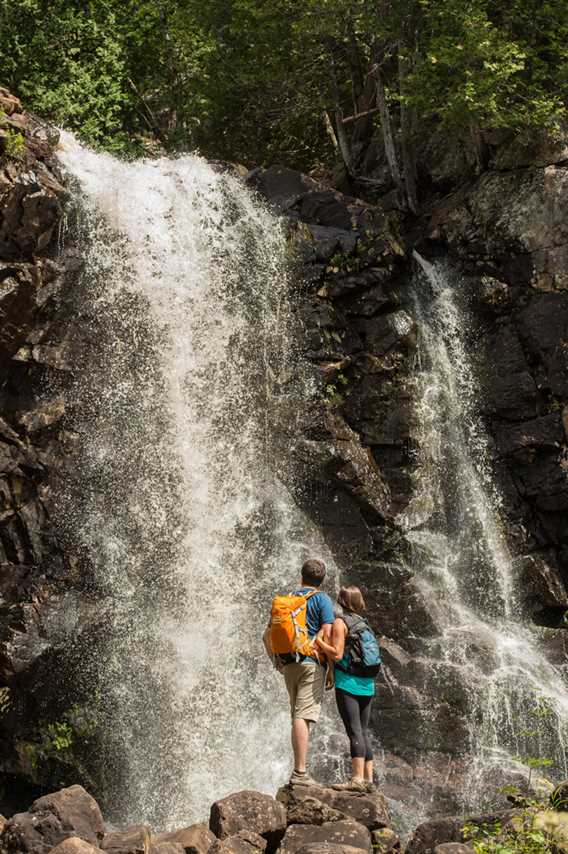 18-metre high waterfall at Chute-à-Bull Regional Park
History and fresh air take the spotlight in this regional park. It offers 6 km of hiking trails that lead to an impressive 18-metre high waterfall. You can take a break at the bottom of the falls to refresh your feet. Learn about the log driving history along the way and soak up the beautiful scenery from the lookout point.
Learn more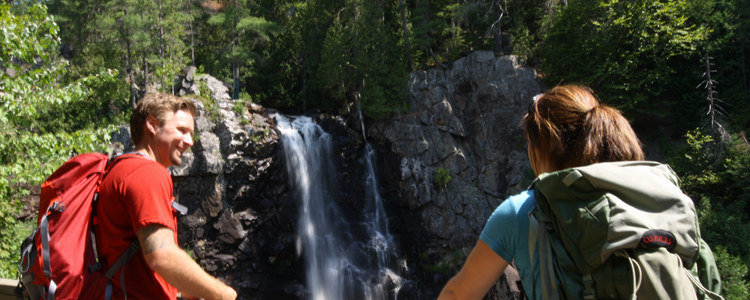 Mont-Tremblant National Park – 100% nature!
With 1,510 sq. km of protected land, the park offers nature in all its forms! Come explore over 100 km of hiking trails and numerous lakes and rivers, ideal for enjoying such activities as canoeing, kayaking and swimming. A bicycle path even allows you to ride around Lake L'Assomption. A must for outdoor enthusiasts.
Learn more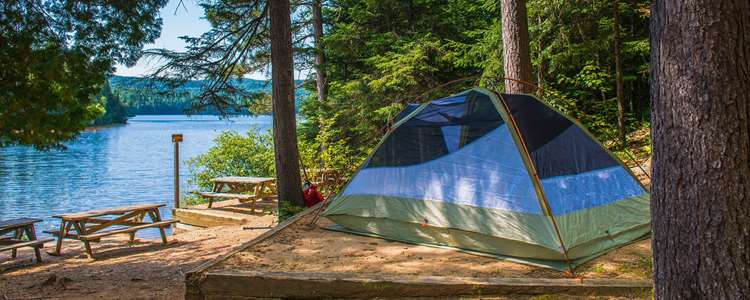 Canoe and kayak at Au Canot Volant
Whether canoeing or kayaking, you'll have a great time on the crystal-clear waters of the L'Assomption River. With family or friends, with a guide or without, on a thrilling adventure or a peaceful outing… fun on the water awaits you!
Learn more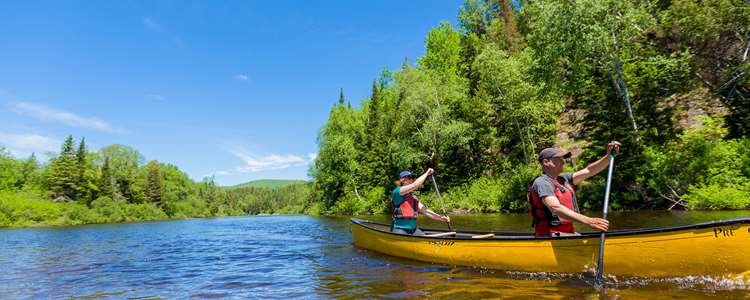 Our directory
Need help planning your trip to Saint-Côme? Whether it's to stay overnight, eat or choose activities, you'll find a selection of must-see locations below
more ideas
Local flavours
Boulangerie Saint-Côme - homemade breads, doughnuts, buns, pies and cookies | 1501, rue Principale, Saint-Côme

Maison Staner - Belgian butcher shop, bakery, delicatessen | 856, route 343, Saint-Alphonse-Rodriguez

On s'gâte | 1161 Rue Principale

Épicerie Le Comptoir | 660 Chemin Notre-Dame-De-La-Merci
Food places
Resto chez Frank - family restaurant | 1650, rang Versailles, Saint-Côme
On s'régale | 1161 Rue Principale
ACCOMMODATION
Rest area on Route 347 (Rang Versailles) - ideal parking for vans and campers | North end of village, next to Au Canot Volant business