What to do now
Our directory of summer activities and lodging
This summer, come and unwind in Lanaudière. Hike through our wide-open spaces. Paddle on our majestic waters. Golf on our spectacular greens. Pedal off to explore our bike routes. So many opportunities to share lasting memories . . .
Our vast region offers endless ways to have fun with family and friends. Whether visiting a museum, relaxing at a spa or hiking though the woods, you're sure to have a memorable time. A day out fishing with the family can turn to pure joy when your youngest reels in the biggest catch.As the weather cools, an overnight stay in a cozy cottage allows us to bond as lovers. Since it's harvest time, we stock up on squash, pumpkins, table grapes and fall raspberries. Looking for the ideal family outing? Seeking the perfect couple's retreat? Planning a simple day with friends? Check out our top getaways here—and take the opportunity to (re)discover our 12 destinations, a rich source of ideas for your next trip. 
Explore the hiking trails
To reconnect with the great outdoors and see nature slowly awaken, what a privilege! To do so, the region is full of magnificent trails to (re) discover. With grandiose landscapes and spectacular views, Mont-Tremblant National Park, regional parks and several municipal trails await you.
Discover our must-see trails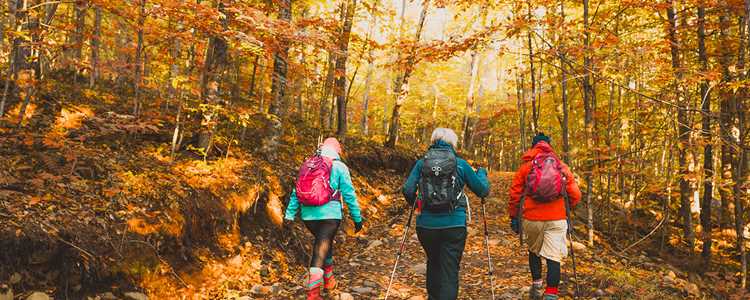 Discover our 10 vacation destinations
Some urban, some outdoor destinations, where it's good to take the time to explore. Accommodations, attractions and restaurants await you.