The Mountains
Head for the mountains and clean air
Looking to get away? Follow the mountain roads through Saint-Donat and past Saint-Michel des-Saints, all the way to Manawan's sacred lands, where the traditions of our Atikamekw ancestors have survived the passage of time.
Come and taste cottage life in our parks, reserves and outfitters, or experience the beauty of a charming lodge in the heart of the forest. Hit the slopes at four different alpine ski centres, or go cross-country skiing and snowshoeing on gorgeous snow-covered trails. While you're at it, try dogsledding and snowmobiling.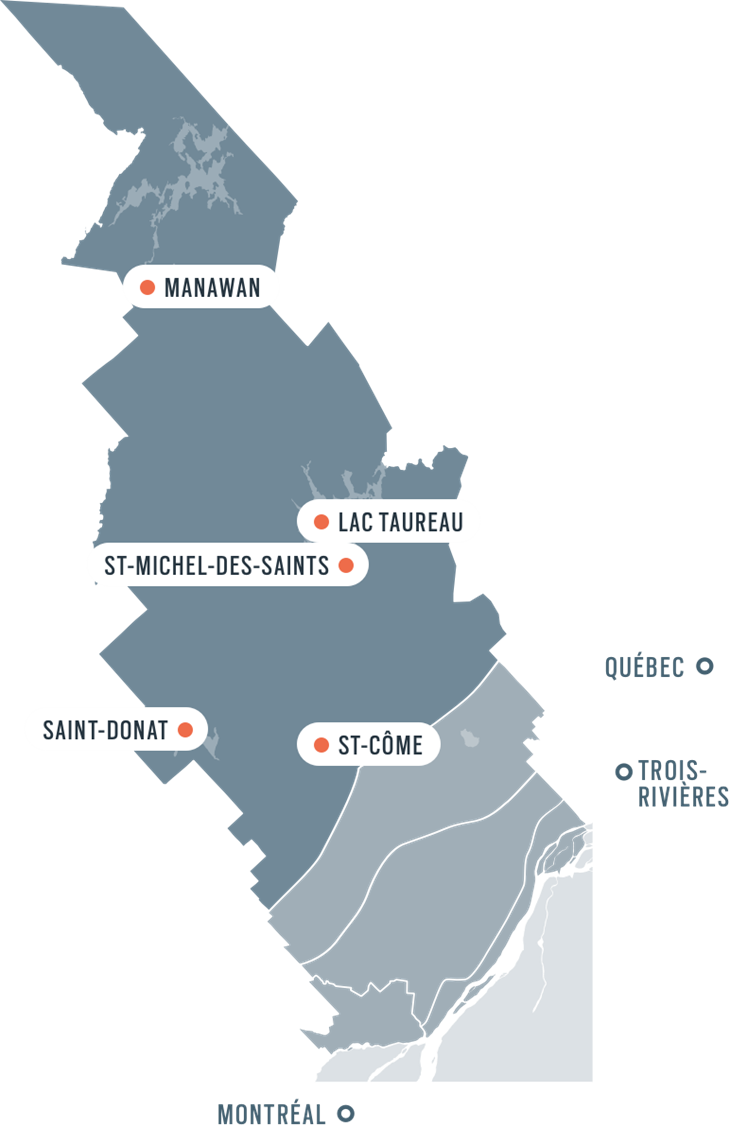 Discover our destinations
Our regional hubs offer an impressive range of activities, all in one location: culture, wonderful restaurants and of course the great outdoors.
Country roads and circuits
Offers and packages
Look into our many offers and packages all designed to help you make the most of the Lanaudière region and take advantage of various discounts.
See all offers

2018 sugaring-off season
Sucrerie du Domaine
Charming sugar shack (seating for 50 people) with a decadent buffet-style menu: all dishes are placed in the centre of the table and you serve yourself. Enjoy sharing your meal with the other guests seated at your table. Festive atmosphere guaranteed!
Reservations online only
From $29.99 to $39.99 per person, plus taxes and gratuities (based on time chosen)
Children age 3 to 12: $24.99, plus taxes and gratuities
Children 2 and under: free if seated on parent

Food truck in Lanaudière
Sucrerie du Domaine
Available year-round for events, private and business parties, festivals and more. Simply choose your menu and we'll make your event a success!
View our menu at: http://www.sucreriedudomaine.com/menus/food-truck
Prices available upon request. Rates vary according to time selected. No minimum number of persons required.

Snowmobile package
Auberge du Vieux Moulin
1 night stay in a spacious room
1 breakfast
Access to indoor pool and hot tubs
This package is not avalaible on Saturday. Price per person, double occupancy, taxes and gratuities in extra.