When the sweltering heat hits Quebec, it's time to head to one of our many lakes. Here are our top beach suggestions in Lanaudière.
Nothing beats a day at the beach on a hot summer's day. Whether you're looking to spend the day with your partner, friends or family, here are some great places to cool off in the water with your toes in the sand.
Lac Taureau is an immense reservoir of 95 sq. km. Its 45 islands and numerous fine sand beaches make it an outstanding recreational area. Lac Taureau's many coves and 31.7 km of shoreline offer ideal conditions for swimming and water sports. The beach at Pointe-Fine is just as big as the ones down south!
In summer, vacationers can enjoy the area's many bodies of water, especially Lac Archambault and Lac Ouareau, which are ideal for water sports. Parc des Pionniers is the perfect place for a family picnic and some swimming.

This is the most popular beach in all of Lanaudière. Its beautiful sandy shores, complete with full facilities, make for a wonderful day by the water. There's something for everyone here!
Located in the Pimbina sector of Mont-Tremblant National Park, this magnificent supervised beach is surrounded by mountains and stretches out into the middle of the lake. A vast natural playground, it's the perfect place from which to plan a trip or a long hike.
Just 45 minutes from Montreal, Rawdon's beach is an ideal place to soak up the sun and cool off on a hot day. There's also a volleyball court and shaded picnic area for those who don't want to be out in the sun all day. For some extra fun and great waterfalls, head to the nearby Parc régional des chutes Dorwin or Parc des Cascades.
This delightful site, complete with a picnic area and volleyball court, gives you access to Lac Pierre. Saint-Alphonse-Rodriguez has much to offer: 34 lakes, the L'Assomption River, forest trails and year-round outdoor activities on over 30 kilometres of multipurpose trails.
Two fine public beaches with shallow water can be found in the vast and beautiful Saint-Jean-Bosco Park. Ideal for young children and supervised by qualified lifeguards, the two beaches overlook the L'Assomption River. A launching ramp for canoes and kayaks is also available. Tennis courts, bike path and water playground nearby.
Seasonal schedule
Late June to mid-August
Daily, noon to 6 p.m.
Free access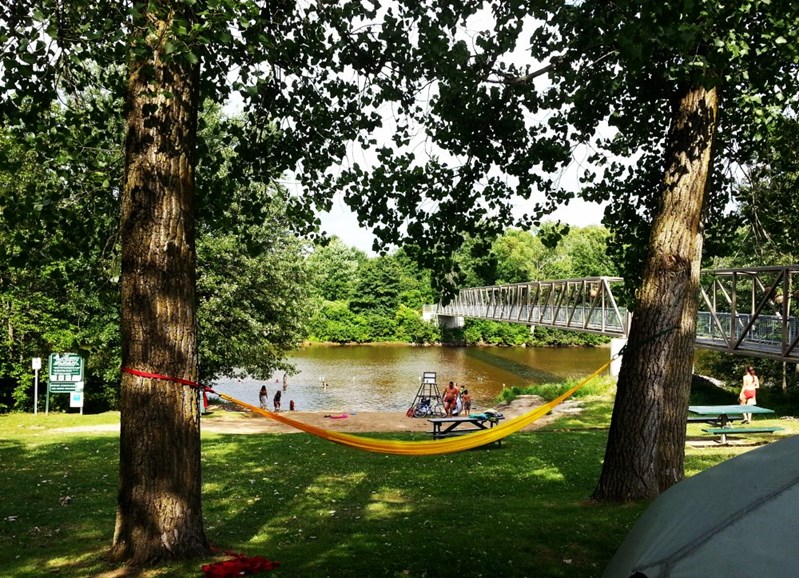 The beach is located in the park on Rue Robillard. Supervised swimming, playground, picnic area, volleyball and parking.
The municipal beach features a natural sandy slope with free access to a roped-off swimming area. Picnic tables, shaded areas and washrooms are available.
So grab your swimsuits and sunglasses—the beaches of Lanaudière await you!