The Foothills
Adventures in the mountains and valleys
Between the plain and the mountains lie the scenic wide-open spaces of the foothills. It's the perfect playground for visitors seeking adventures ranging from soft to extreme. Come enjoy a unique overnight experience!
Set up a home base in a cottage, lodge or out-of-the-ordinary accommodations, then set off and explore. Come enjoy some serious winter fun skating on frozen lakes, snowshoeing, skiing, snow tubing, snowmobiling and dogsledding. Then unwind at a spa!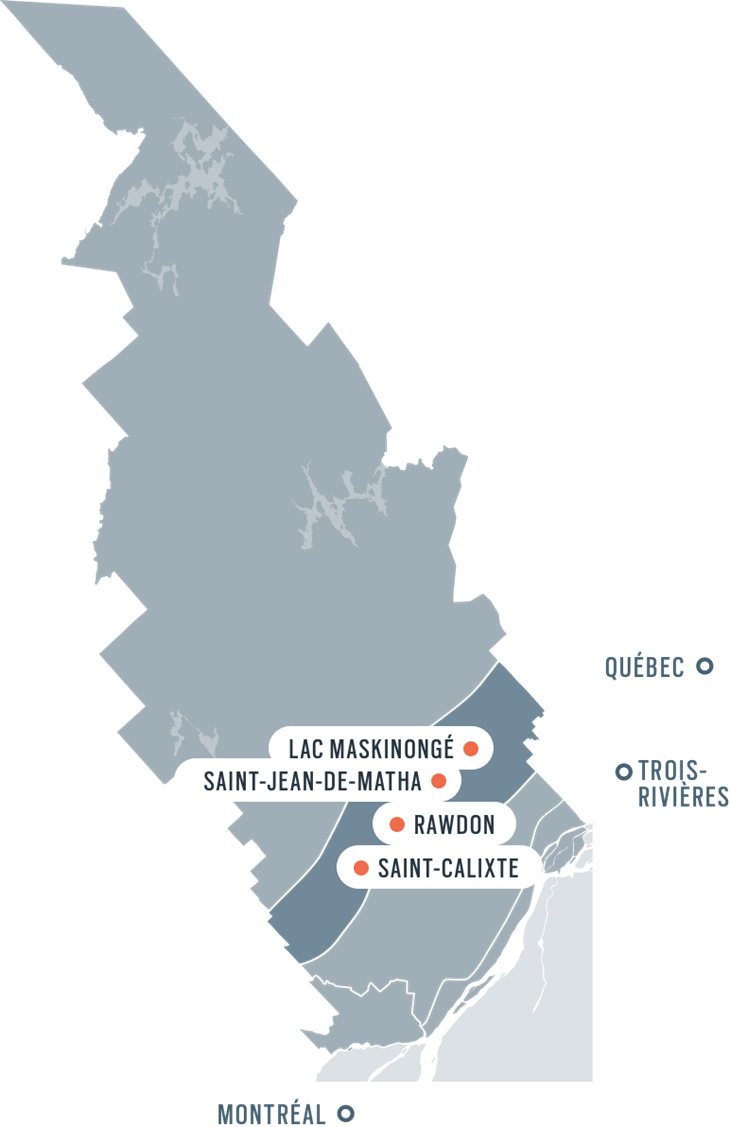 Discover our destinations
Our regional hubs offer an impressive range of activities, all in one location: culture, wonderful restaurants and of course the great outdoors.
Country roads and circuits
Offers and packages
Look into our many offers and packages all designed to help you make the most of the Lanaudière region and take advantage of various discounts.
See all offers
Business
Auberge de la Montagne Coupée
Business
Auberge de la Montagne Coupée
• Lodging in a country-style room
• 1 à la carte breakfast
• 1 table d'hôte lunch (3 courses)
• 1 table d'hôte dinner (4 courses)
• Meeting room
• Morning coffee break (coffee, tea and juice)
• Afternoon coffee break (coffee, tea, mineral water and soft drinks)
• Break and meal gratuities included
• Free Wi-Fi
• Free outdoor parking
Price per person, double occupancy, taxes extra.
"Slide 2 days for free" getaway package
Auberge du CVC Lanaudière

"Slide 2 days for free" getaway package
Auberge du CVC Lanaudière
2 nights in a standard room
2 continental breakfasts
2 table d'hôte dinners
2 days of activities including sliding, rafting, cross-country skiing, snowshoeing and skating
Equipment loan subject to availability and a $25 lunch credit
Valid on Fridays and Saturdays from December 22, 2017 to March 16, 2018.
Valid on weekdays from December 24, 2017 to January 5, 2018 and from March 4 to 9, 2018.
Informations & reservation : 1-888-880-7134
$167.95 per person, double occupancy
$52.10 per additional person age 4 to 12
$77.40 per additional person 13 and older
Plus taxes, gratuities included
Winter fun package
Auberge du CVC Lanaudière

Winter fun package
Auberge du CVC Lanaudière
1 night in a room with 2 double beds
1 continental breakfast
1 table d'hôte dinner
1 day of activities including sliding, rafting, cross-country skiing, snowshoeing and skating
Valid on Fridays and Saturdays from December 22, 2017 to March 17, 2018.
Informations & reservation : 1-888-880-7134
$114.50 per person, double occupancy
$39.10 per additional person age 4 to 12
$57 per additional person 13 and older
Plus taxes, gratuities included