Nothing beats skiing on deep natural snow!
There's no shortage of choices
Every year, over 300 cm of natural snow falls on Lanaudière. That's more than enough to keep skiers happy. The challenge is deciding where to go to practice your turns, work on your slalom technique or just have fun in the moguls. Did you know Lanaudière has 3 of the 4 ski centres with the highest vertical drops north of Montreal? Time to hit the slopes!
Four superb ski resorts await you
The Matawinie mountains, just minutes from Montreal, offer winter sport enthusiasts four outstanding ski centres to choose from. You'll love Ski Val Saint-Côme with its 37 trails and 300 m vertical drop—the centre also frequently hosts major sporting events. In Saint-Donat, try your hand at mogul or glade skiing at Ski Mont La Réserve in ideal snow conditions. Or head next door to Mont-Garceau (Lanaudière's highest ski hill), where the stunning view alone is worth a ride to the top. Ski Montcalm in Rawdon is the ultimate family destination with 24 trails spread across three hillsides.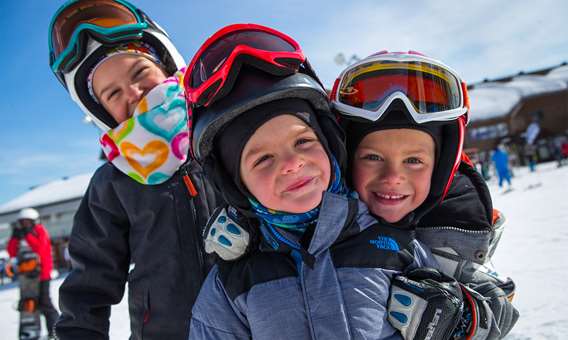 Discover our 4 ski resorts
The pleasures of skiing with friends or family!
Freestyle Skiing
Just 120 km from Montreal, the Val Saint-Côme ski resort is the "national" site for elite freestyle ski teams. As soon as the hills open, top athletes from around the world will come train for the next Olympic Games. Come ski alongside the Dufour-Lapointe sisters, world champion Mikael Kingsbury and all the others!
Discover Ski Val Saint-Côme