Step up and explore this immense territory, whatever your age or ability
Lanaudière on foot, in the snow
Whether you prefer the thrill of high vertical drops or the calmness of the flat plains, you can explore up to 500 km of amazing snowshoeing trails in our region. Wherever your treks take you, our landscapes will remain forever etched in your memory. Adventure seekers and photogaphy buffs, head right this way!
Seeing far and wide
For those who love the majesty of winter, Lanaudière's regional and urban parks are the perfect playground for making tracks in the snow. From Sept-Chutes Park to Ouareau Forest, along the National Trail, plenty of fun awaits snowshoers any day of the week. You'll love the fresh snow at Mont-Tremblant National Park (accessible via Saint-Donat) and the 9 km of trails in Chute-à-Bull Regional Park. In Saint-Côme, come see the dramatic waterfalls and cascades along the rushing Boule River. Feel like a stop? The lookout from the top of the mountain offers a spectacular view.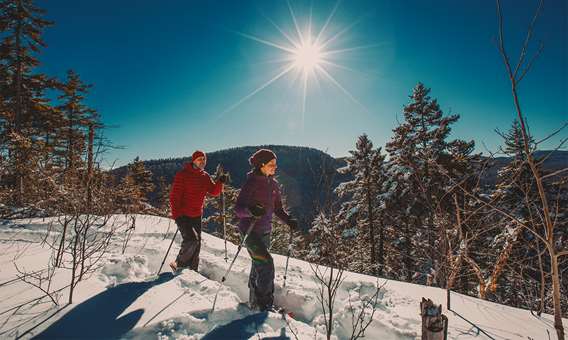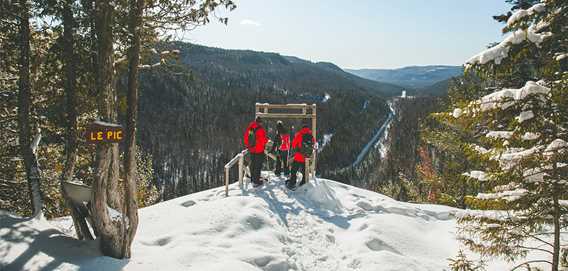 Exploring scenic views
Snowshoeing has become so popular and accessible, you can head out for a hike almost anywhere—at an outfitters, in the heart of our vacation centres, around cabins and cottages and even in our large urban parks, such as Côte Boisée in Terrebonne or Parc du Grand Coteau in Mascouche. Wherever you are, there's a trail waiting for you to explore its scenic views.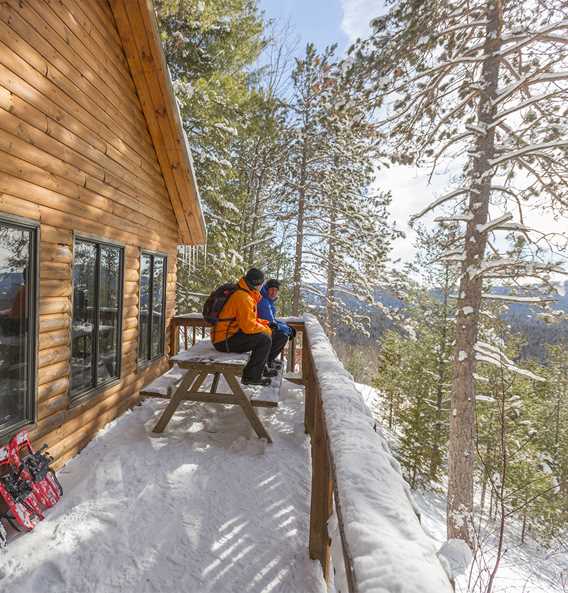 Try something different
On the shores of Lac Maskinongé, enjoy a family hike along the Brandon Trails and its 8 km network that offers options for all skill levels. Want an original experience? Try the night-time hike at Club des Trappeurs in Saint-Côme. Whether taking a short or long circuit, which could include an overnight stay in a hut or lodge, you'll be surrounded by beautiful scenery. For a listing of all of Lanaudière's snowshoeing trails, follow our guide.