The best spot to treat yourself to an invigorating thermal experience
Rest and relaxation in Rawdon
Nestled on Mont-Pontbriand in Rawdon, La Source Bains Nordiques is the ideal spot to unwind in the heart of nature. The mountainside and rugged headland setting combines harmoniously with the site's modern design that lets in an abundance of natural light. Enjoy a truly unique thermal experience as you alternate between hot and cold.
A fun and sensory experience
Built into the cliffside in such a natural way, the site of La Source Bains Nordiques is simply magnificent. Add to that top quality facilities! Come discover a dream setting where you can unwind in the dry sauna, Jacuzzi, Nordic baths and waterfall. And be sure to give the dark room a try during a period of rest—it's just as invigorating as thermotherapy. In winter, you'll love its ice bar and igloo, surrounded by ice sculptures that light up the site.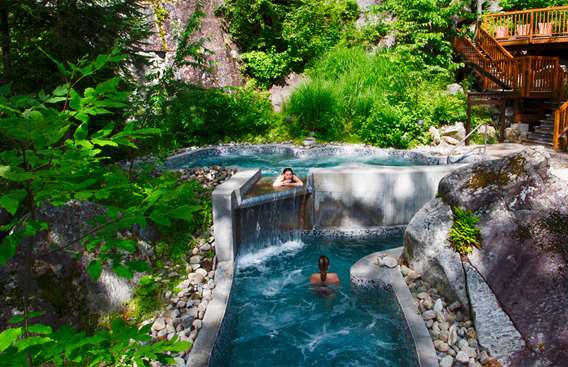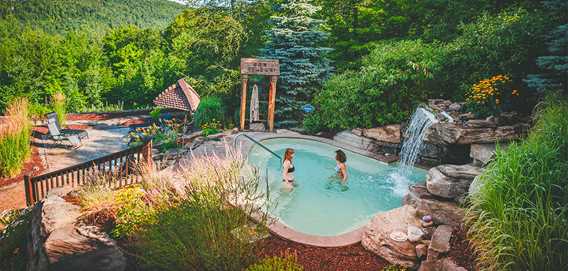 More havens of peace and re-energization
Take some time to unwind and re-energize after a day in the great outdoors. Lanaudière offers plenty of places where you can sit back, relax and enjoy a moment of peace. Natur'Eau spa in Mandeville will win you over with its aromatherapy room and Finnish spa overlooking the mountain. And aside from our spas and health centres, many hotels and lodges also offer multiple relaxation packages. Whether at Auberge du Vieux-Moulin, Hôtel Spa Le Suisse or Auberge aux Quatre Matins, you can expect some quality pampering.
Learn more