Explore the Lanaudière forest on skis and get close to nature in a unique and special way.
Whatever your skiing style, we've got the trails
Lanaudière trails are so packed with snow all winter, they attract ski buffs from far and wide. Whether you're a Nordic skier or prefer classic cross-country skiing or ski-skating, come enjoy our many kilometres of groomed trails in the heart of our forests. There's something for every taste and skill level.
Ski Montagne Coupée
Saint-Jean-de-Matha is one of the most popular spots for cross-country skiing. Located just one hour from Montreal, the Montagne Coupée offers 55 km of double track trails for classic and skate skiing. Groomed to perfection, the trails take you through a sublime setting of mountains, capes and rivers. The views are simply breathtaking. Also in Saint-Jean-de-Matha, the Lanaudière Cross-Country Ski Center offers 45 km of trails for both classic and skating style.  Don't have equipment? We have all you need!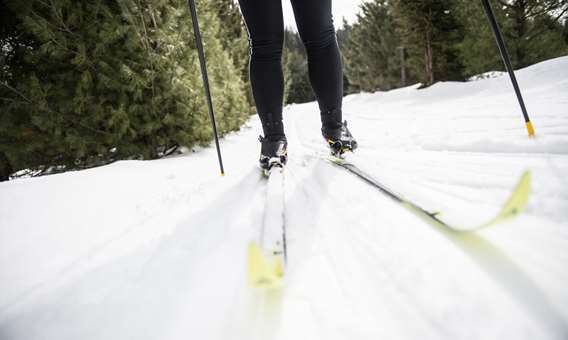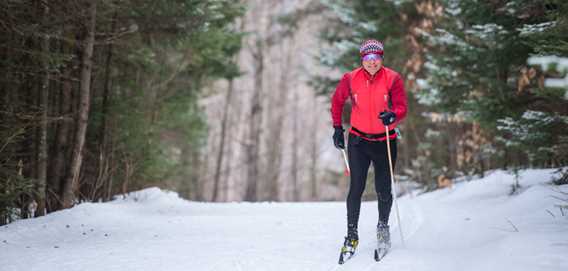 Snap on your skis
In Lanaudière, there are as many trails as there are ways to celebrate winter. Cross-country skiing is popular from east to west and north to south.
Ouareau Forest Regional Park offers 30 km of classic or Nordic skiing trails. The Ouareau River runs through Ouareau Forest, where you can also access stunning wilderness lakes. It's so beautiful, you'll want to stay overnight in one of the many cabins in the forest and warm up around a cozy wood-burning stove.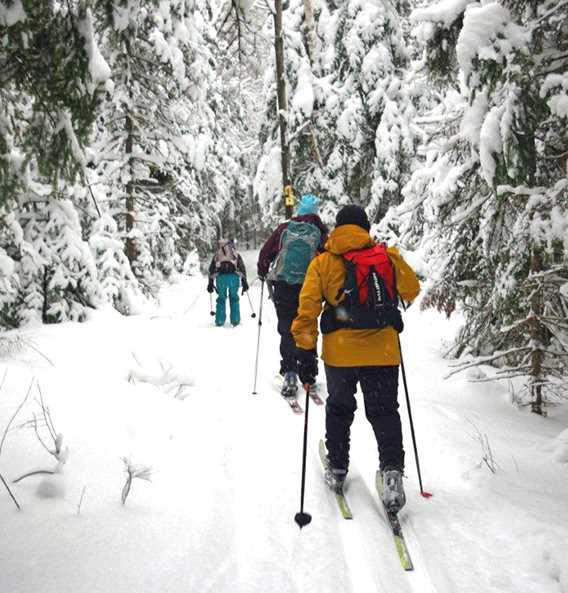 Looking for more?
Head to the Pimbina sector of Mont-Tremblant National Park. Ski conditions here are at their best, stretching over 35 km of ungroomed trails. The unpatrolled trails give you the impression you're completely alone in the world. Need a break? Stop in at one of the many community cabins along the way. 
The spectacular mountains surrounding St-Donat are perfect for cross-country skiing and scenic short hikes. In L'Épiphanie, you can enjoy 34 km of double tracks and 7 km of skate skiing at Ti-Jean —another magnificent setting! In Terrebonne, take advantage of Groupe Plein Air Terrebonne's urban offer to explore the 25 kilometres of trails on the TransTerrebonne. No equipment? Rent all you need onsite!