Spring goes together with renewal, fresh air and getting outdoors.
What to do in spring in Lanaudière?
Spring, that exhilarating time when you feel alive again. Hibernation is over! We can't wait to get outside to enjoy the sunshine that is becoming more and more present. Nature is slowly waking up, the birds are coming back to visit us and the maple sap is flowing. And yet, with all this snow melting, one question persists; what to do in spring? Here are a few suggestions.
Indulge your sweet tooth with a sugar shack meal
With spring comes sugaring-off season. Who can resist the delicious, hearty meals of this springtime tradition? Get yourself a copious maple-themed meal featuring omelettes, ham, potatoes, baked beans, sausages and crispy pork rinds, not forgetting numerous maple desserts. Whether it's prepared in the traditional manner or with a modern twist, this food is sure to satisfy your taste buds. Don't miss out on the classic maple taffy on snow!
Discover our sugar shacks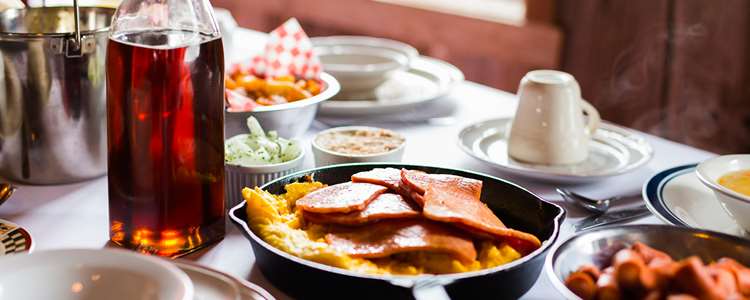 Springtime also means to clear away the last remaining snow to officially open your terrace! Enjoy a break in the sun, sipping a delicious microbrewery beer. 
Learn more

Migratory birds are back in the area, putting on a beautiful show for us as they make their way to the Berthier Islands. Come see them up close!
Learn more