Théâtre Hector-Charland
The Théâtre Hector-Charland is located in the heart of the city of L'Assomption. The quality of its facilities, the calibre of its staff and the diversity of its program have made the theatre rightly famous. The Théâtre Hector-Charland is considered Quebec's crown jewel of regional theatres.
BOEING BOEING | JULY 5 TO SEPTEMBER 2, 2017
Cast: Pauline Martin, Bernard Fortin, Martine Francke, Martin Héroux, Lise Martin and Caroline Bouchard
Written by: Marc Camoletti
A real Don Juan, has found the trick to living happily with three different women to whom he's engaged. What's his secret for enjoying the advantages of polygamy without any of the inconveniences? It's choosing attractive flight attendants from different countries and keeping track of their airline schedules, all with the help of his cranky servant. But then somehow the schedules get mixed up and his happy life turns to chaos, crossing into a zone of severe turbulence.
Buy tickets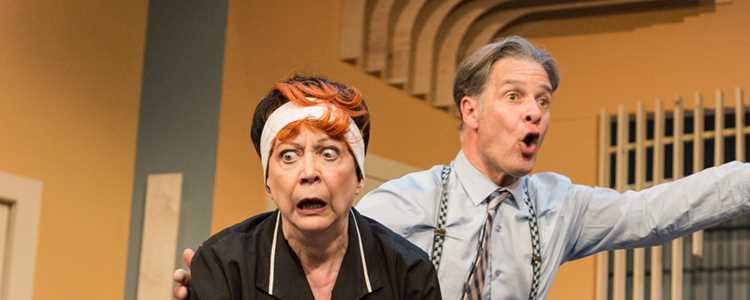 Cast : Mélissa Bédard, Gabrielle Destroismaisons, Dominic St-Laurent and Nicolas Drolet. Paul-Émile will leave his shoemaking shop to his grandson as an inheritance under one condition: he must locate the owners of each pair of shoes before taking over the premises. Red high heels, cowboy boots, sandals, tap shoes… His musical journey takes him on various paths and through different eras, with salutes to Michael Jackson, Dolly Parton, Félix Leclerc and The Beatles. Blue Suede Show will get you moving to the beat! All shows in French
Buy tickets

Situated east of Montreal, the county of L'Assomption is the entryway to Southern Lanaudière. Its strategic location at the crossroads of Autoroutes  40 and 640 give it rich development opportunities. The area offers a host of activities and attractions: restaurants and bistros, bed & breakfasts and other accommodations, health centres and spas, fine food and specialized shops, wineries, heritage sites, exhibitions, outdoor events and festivals, sports activities and much more. An area steeped in history, culture and nature.
Learn more